Print This Recipe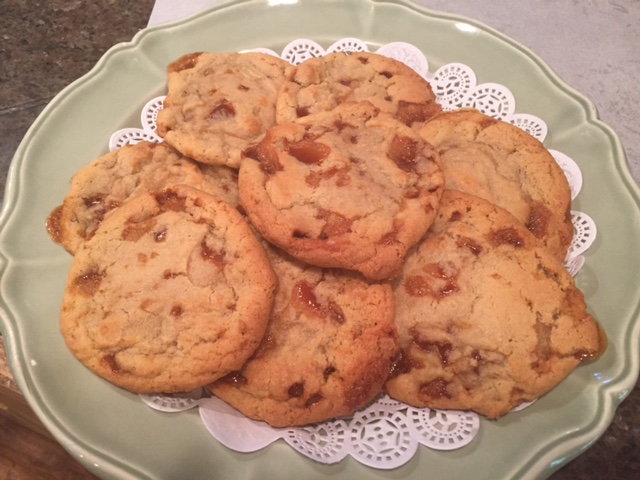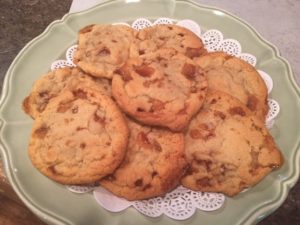 Prep Time:
2 Hours and 30 Minutes
Ingredients:
TOFFEE
1/4 C Butter
1/2 C Granulated Sugar
COOKIE DOUGH
3/4 C Butter - Room Temp
3/4 C Light Brown Sugar
3/4 C Granulated Sugar
1 Large Egg plus 1 Egg Yolk
2 t Vanilla
1 T mild honey (or light corn syrup)
1 t Baking Soda
1/2 t Kosher Salt
1 T Cornstarch
2 3/4 C All Purpose Flour
Instructions:
Make the Toffee first
* Line a baking sheet with parchment paper and set aside
* In a heavy saucepan over low heat bring the butter and sugar to a boil - stirring occasionally - use candy thermometer to get it to 285 degrees (and it suddenly goes FAST and can burn easily) - the mixture will be a dark amber color. Remove from heat - let it sit about 1 minute - then pour it over the parchment paper and let it cool until solid - then you break it into smallish pieces...

Cookies
* Preheat over to 325 degrees
* Beat the butter and both sugars until light and airy
* Add the egg, yolk, vanilla, honey, baking soda, salt and cornstarch - mix until all is evening combined
* Mix the flour in until fully incorporated
* Break up the toffee into choc chip size pieces (not too big, not too small) - mix in (I use the mixer for a minute or so as the dough is stiff)
* IMPORTANT: Chill the dough before baking (about an hour is all)
* Scoop out (I use decent size scoop - 2 T size) and put on cookie sheet topped by parchment paper (these WILL STICK if you don't use parchment paper)
* Bake about 10 - 12 mins - till a bit brown - take out and let SIT on the pan until they start to cool - then you can take them off.
ENJOY!!!!!!!!!!!!!!!!!!!